Pix from one of the best road trippin' brahs a guy could have. Robert Gill lives and breaths racing and his shots show it. If you would like to contact Biggy G just click on the helmet below to email him.
---
Pictures from the
---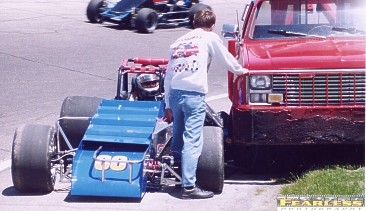 David Harrison's practice day started off pretty rough when the push truck ran over his left rear.
---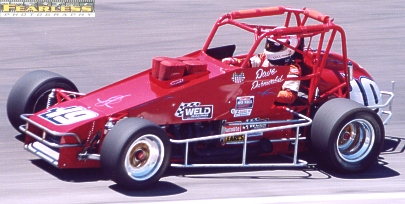 Dave Durnwald has been a fixture at the Little 500 for many years. The Ohio native has seen plenty of seat time in the supers too.
---
Gene Lee Gibson is pushed out by his father Todd. Gene built this 8" offset roadster especially for the Little 500 and it features one of the last engines Bill Port built before his death last year.
---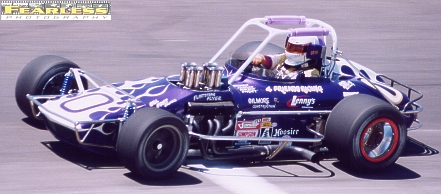 Here's Gene Lee at speed during practice. Gene crashed later in the day during practice Wednesday. He loaded the car up, took it home to Richwood, OH repaired the car and came back on Friday to set the fastest second day time trial speed which would have been good enough for 10th on the 33 car grid had he time trialed on the first day.
---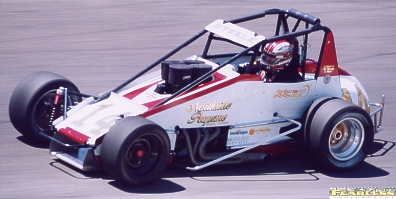 Dave Steele is fast again this year and took the pole position after winning the USAC tuneup race on 5/22.
---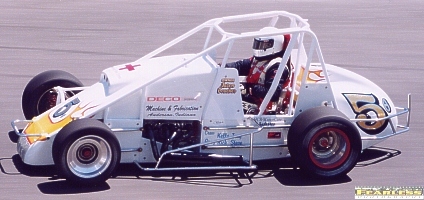 Former winner and supermodified king, Bentley Warren made his return to Anderson this year and qualified 6th.
---
To The Wing Side Up Pix Page
Photog Friend