<![if !vml]>

<![endif]>
Time to leave the porn alone and get off on the good stuff by visiting some of the best racing websites on the web!
---
Hyperlink
Spot
We're always on the lookout for cool and somewhat different sites to show you in the Hyperlink HotSpot. This week's featured link is the homepage of ISMA supermodified driver, J. Scott Martel and Martel Motorsports. We are proud to call Scotty one of our best friends and feel very fortunate indeed to know the Martel family, which is so deeply entrenched in New England Racing History. Scotty's new site is one of the leanest, meanest, and cleanest looking on the web when it comes to driver sites. Stop in for a visit, brush up on your racing history,
AND
Tell em Bobby G. Sent Ya!
---
These links are in no way endorsed, guaranteed, or promoted by these two whackos, but Bobby G. says if they were, even we'd look at them!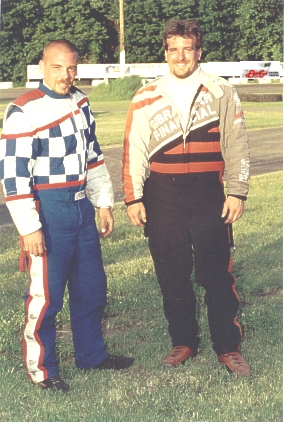 Our good friends, and two of the fastest. most fearless open wheel racers anywhere, Johnny & Joey Payne, (a.k.a.-Jerky and The Jet) at Galesburg, MI 6/00
---

TELL THEM YOU LOVE US! PLEASE VOTE.
102 Kenmore Street, Syracuse, New York 13219 Ph. - 315 487-1784 Fax. - 315 487-1784 email - contact@stansracegear.com